SoftCare² Pro
Gantry Car Wash
All imported high-end gantry car wash
With a high-performance system for the toughest of jobs
• High potential turnover, because special functions justify higher prices.
• Satisfied customers, thanks to first-class car wash results and consideration of special requests.
• Flexible wash programme setup: with lots of available options and variable wash programme configurations.

SoftCare² Pro caters to all your customers' needs. Whether insect removal, thorough wheel rim cleaning, powerful high pressure or perfect drying results – choose from numerous innovative functions and designs to offer your customers an exceptional washing experience.
InsecTecs: The effective solution for stubborn dirt.
FlexStream: Chemical application, washing and drying in one.
High-pressure options: Powerful cleaning with high pressure.
ShineTecs®: Shine and protect with a repair effect.
RainTecs®: The formula for maximal roll-off effect.
WheelFlash and WheelJet: The solution for brilliant wheels.

StarTrack guide rails: Attractive markers leading into the car wash gantry.

FoamSensation: A foam wash with a wow effect

WashTec Plus: Online car wash management.
MultiFlex: Perfect cleaning for hatchbacks
Hatchback slopes, rear spoilers and wheel arches are some areas that conventional side washers struggle to reach. Our solution is MultiFlex: this multi-dimensional side washer adapts flexibly to the rear slope of the car and even provides thorough cleaning under the spoiler and around the wheel arches. The result: a more brilliant finish for your customers and more turnover for you.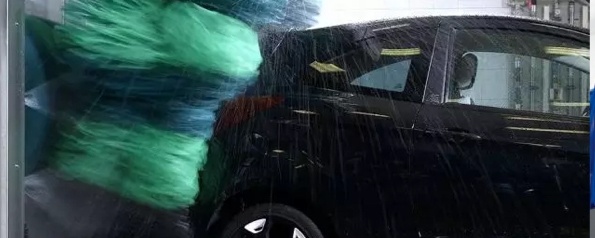 FoamSensation: A foam wash with a wow effect
The optimal add-on for your existing foam pre-wash, FoamSensation covers the entire vehicle with a voluminous, colorfully lit curtain of foam, transforming the car wash into a spectacular experience. The attractive LED lighting in combination with fragrance conveys freshness and cleanliness.