Fuel Margins are under pressure and the competition becomes harder. Oil Companies are looking for new business opportunities to attract customers and increase the profitability. The trend is developing the Non-Fuel-Retail-Business. In most of the countries world-wide this is already an essential part of the revenue and an even bigger one in margins.
A professional Car Wash Business is a must for every customer thinking about One-stop-shopping and generating long-term loyal customers. Gas Stations are the perfect place for Car Wash. A high customer frequency and a positive image for car related services. The expectations in convenience are growing and customers actively look for the best place to get all they need. Car Wash must be fast, safe and deliver a good quality to satisfy the customers. Every service offered at the Gas Station reflects on the Brand Image of the Company. It's more than an opportunity: it's the question of leading or following the trend. WashTec as the world leading Car Wash Manufacturer with 40.000 sites and more than 50 years experience is the preferred business partner of many international and national Oil-Companies. An unbeatable advantage.
We Understand Your Business
Use your customer base for a new business

Convenience Retail is a strategic goal

Customers expectations are increasing

The Car Density is growing fast – new potentials are coming up

The profitability per sqm land must be improved

Quality is a Key-driver for sustainable success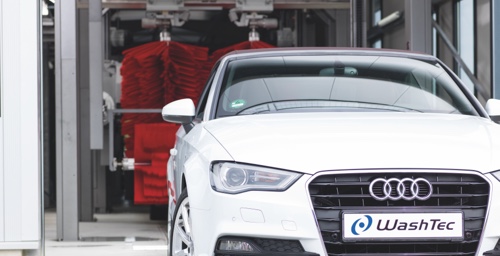 Use your customer base for a new business

High profitability of Car Wash with the right Product and Offer

WashTec supports the strategic and operational process with more than 50 years experience

High reputation of German Products like with cars

High quality and long lifetime guarantees a projectable investment and business case
Total Sinochem Oil Co.,Ltd
and Total Sinochem Fuel Co., Ltd
Located in Shanghai and Beijing,Total Sinochem is the joint venture company of Sinochem Group in China and Total Group in France. The main business is the development and management of the gas station networking of the co-branding of Sinochem and Total, the sales of gasoline and other oil product, provide all-around service including convenient store, automatic car wash, maintenance, restaurant, motorcade service and automatic delivery system, etc.
Total Sinochem operates stations with WashTec SoftWash car wash machines in Beijing and Shanghai. Many stations in Ningbo and Shenyang are still under development. Total Sinochem offer a modern full service concept at their stations including refueling, convenience stores and car washing. The car wash concept includes all facets of modern automatic car wash services.
The modern WashTec equipment allows customized services, from a quick standard car wash up to advanced car wash service like underbody wash, from interior cleaning to state-of-the-art wax and polish options. The modern car wash machine can thoroughly clean and polish a car within 8 minutes. A standard wash can be completed in 5 minutes. Total Sinochem offer the most advanced way to protect a car and save time in China.
In addition, Total Sinochem shows great respect and care for the environment. All stations are operated with advanced WashTec water recycling systems to protect the valuable water resources in China.
Total Sinochem has taken advantage of the business development knowledge and experience of WashTec. Total Sinochem and WashTec have developed the customer offer, marketing and business strategies together. WashTec would like to say "Thank you" to Total Sinochem for their trust and confidence in our products and services.
Total France and WashTec cooperate in Europe since more than 20 years. Together we have realized several hundreds of car wash installations in more than three continents.